Feier Mettel Records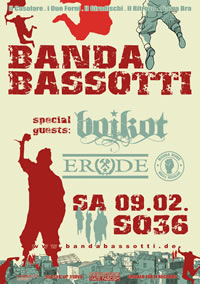 BANDA BASSOTTI and BOIKOT live in Berlin
After more than 2 years not playing live in Germany, the Italian Combat-ska rockers Banda Bassotti will return to infamous Berlin SO36 stage on February 9, 2013.

Also on board another Feier Mettel Records artist - Boikot from Madrid, ERODE from Milan and BANDA RUDE from Dresden.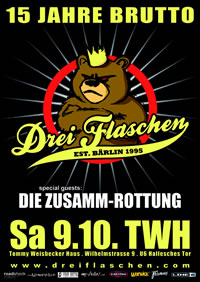 15th anniversary show of DREI FLASCHEN
Berlin punk globetrotters DREI FLASCHEN announce their temporary re-union to celebrate their 15th band anniversary



Among several surprise acts, also a perfomance German punk veterans
DIE ZUSAMM-ROTTUNG will be part of the show on Oct 9th at the
Tommy-Weissbecker-Haus in Berlin, where DREI FLASCHEN already celebrate
their 5th anniversary in Oct 2000.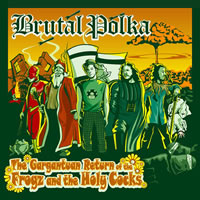 Brutal Polka - The Gargantuan Return of the Frogz and the Holy Cocks out now!
The new album by the
Israeli Brachial-Ska-Punk BRUTAL POLKA is now available everywhere.